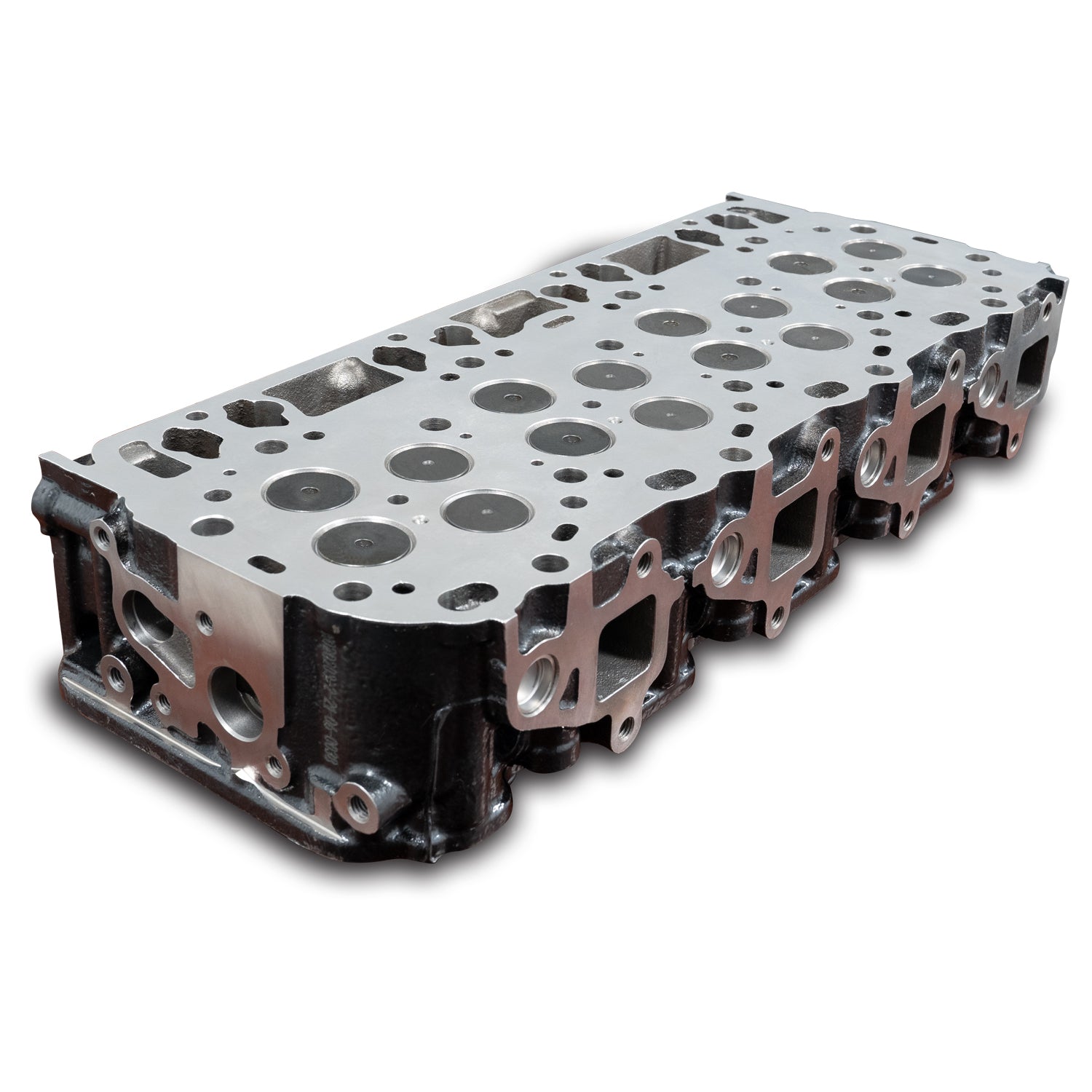 2004.5-2010 GM 6.6L Duramax Cast Iron Cylinder Head (One) LLY/LBZ/LMM
SKU 110100103 SKU 110100103
50 States Emissions Legal (E.O. D-701-38)
The OEM Duramax cast-aluminum cylinder heads fall short over time - the different heat expansion rates between cast-iron engine block and cast-aluminum cylinder head cause head gasket scrubbing, and eventually blown head gaskets. The aluminum cylinder heads are also prone to warping, melting, and/or cracking in high-performance applications where excessive heat is introduced.
PPE's new Cast Iron Cylinder Head is the ultimate upgrade to your Duramax engine and eliminates any head gasket or cracking concerns. Cast from high-quality alloyed gray iron, the PPE Cylinder Head offers elevated fatigue strength, heat, and creep resistance, which prolongs the cylinder head's lifespan significantly. PPE Cylinder Head also shares the same heat expansion rate as the stock cast-iron cylinder block – no more blown head gaskets.
Each head comes complete with upgraded valve train components. All valves are made of superior materials and fully nitridated. The tapered valve springs' higher spring rate and lighter retainers/locators enable faster response during higher RPMs and eliminate valve float. Powder metal valve seats provide superior wear and heat resistance. The denser and stiffer material properties from the cast-iron construction also significantly reduce engine clatter.
Whether you have a damaged aluminum cylinder head or a desire for better reliability and longevity on your Duramax engine, the PPE Cast Iron Cylinder Head is undoubtedly the best choice.
*Important Note: The valve seats of the PPE Heavy Cast Iron Cylinder Heads are installed with an interference that maximizes the durability and lifespan of the cylinder heads. Such interference might not be optimal for extreme-performance applications where a significant amount of heat is created. For those applications, PPE suggests that the exhaust valve seats be replaced with higher interference (+0.006'' to +0.008'') oversized exhaust valve seats (Nominal size 34mm).

Requires the use of LBZ/LMM glow plugs on LLY engines
Features:
Specially alloyed gray cast iron liquid-cooled cylinder head with elevated strength in high temperatures and creep resistance
Cast iron cylinder head offers the same heat expansion rate as the OEM iron block which completely resolves the common head gasket scrubbing issue (blown head gasket)
Fuel injector cups are cast in the cylinder head, eliminating leaks caused by the original fuel injector cup seals
Higher fatigue strength and heat resistance significantly extends cylinder head lifespan
Premium 21-4N, Stellite-reinforced exhaust valves, and chrome-silicon alloy intake valves
All valves are fully nitridated with increased abrasion resistance
High-strength Chromoly steel CNC machined spring retainers and spring locators
Upgraded tapered valve springs provide faster response and eliminate valve float at high RPMs
Powdered metal valve seats offer superior wear and heat resistance
Each head comes complete with BRAND NEW springs, spring retainers, spring locators, valves, valve seals, valve keepers, valve seats, valve guides, rocker arm dowels, and freeze plugs
Significantly reduced diesel engine clatter compared to the factory aluminum cylinder heads
Increased thermal efficiency compared to aluminum heads
3-Year Unlimited Mileage Warranty
2004.5-2010 GM 6.6L Duramax Cast Iron Cylinder Head (One) LLY/LBZ/LMM